Elan Technology
Advanced Ceramics
Ceramics Manufacturing Company in Midway, GA
Elan Technology has been developing and manufacturing advanced ceramics materials for more than 70 years. Employing advanced technical manufacturing processes, we provide our customers with specialized specialized ceramic materials and components, which are used in a wide range of industries.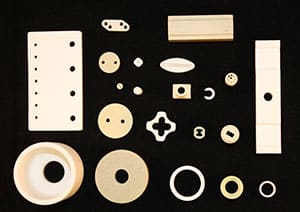 The aerospace, medical, marine, and defense industries use alumina ceramic for many applications. For example, alumina can be found in ignition systems for jet engines, high temperature bearings, and medical sensors. Elan Technology offers alumina with different levels of purity, ranging from 85% to 96% in order to meet the challenges of any application. Higher purity alumina components are often used in corrosive environments where other ceramic materials are not suitable.
Another popular advanced industrial ceramic is steatite, which is favored for many electrical applications because it possesses excellent electrical insulating properties. Elan Technology's steatite compositions are used in applications, such as thermostats for household ranges and internal components for HVAC systems.
Zirconia (zirconium dioxide) is a ceramic material that has rapidly found use in many applications such as structural ceramics, automotive oxygen sensors, and dental ceramics. The superior wear resistance and mechanical strength of zirconia has also led to its use in applications such as bearings and grinding media. Elan Technology offers a Yttria Stabilized Zirconia, which can be custom formed and sintered to meet the customer's specifications.
In addition to dry pressing, we can perform machining of the unfired (green) ceramic components to achieve virtually any geometry. If required, we also have post-fired grinding capabilities to achieve exacting tolerances.
Our staff of experienced engineers can assist you with all of your applications. We provide support for material selection and component design.
Advanced Ceramics Company
As an advanced technical ceramics company, we supply components for a wide variety of applications. Below are some of the industries where our materials are used every day:
Microelectronics
Lighting
Defense
Marine Systems
---
Certifications
Further Reading