Elan Technology
Spray Drying
Spray Dryer

Technology at Elan Technology

Spray dryer technology allows various materials to be combined and then processed into a homogeneous, free-flowing powder. Many materials are spray dried simply to produce a dust-free powder. However, in many cases, such as catalysts, close control of the particle size distribution is required in order to ensure proper performance of the final material.

Spray drying is a process used to produce dry granular powders from a slurry, which is a mixture of liquid solution and solid materials. Production of powders is accomplished by rapidly drying the slurry using heated air. The slurry is introduced into the hot air stream via a rotating atomizer wheel or nozzles. While both methods produce granular product, the atomizer wheel provides a broader particle size distribution. Each method allows for very consistent control of the particle size distribution.

During Elan's spray drying process, operating conditions such as temperature, wheel speed (if applicable) and pump pressure are closely monitored to ensure consistent product quality. In-process quality control can be tailored to the requirements of each specific customer. However, we typically monitor particle size distribution, moisture content and bulk density.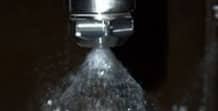 Although a variety of liquids can be used to form the slurry, Elan Technology primarily processes aqueous based mixtures. We have the capability to prepare slurries onsite or we can accept bulk tankers of pre-mixed material. Specific batching instructions for toll spray drying are developed for each customer's materials based on their individual requirements.
Post-spray dying, materials can be screened to further refine the particle size distribution and then packaged in customer specified containers.